Body Positivity
Tim McGraw's Daughter Slammed For Showing Body And Being Overweight But Her Dad Is Proud Of Her
The oldest daughter of Tim McGraw, Gracie isn't scared to show her natural body.
Tim McGraw is a versatile talent, excelling as a singer, songwriter, producer, and actor. He's been married to fellow country star Faith Hill since 1996, and while they have awards and accolades to their names, they are proud of their daughters, Gracie, Maggie, and Audrey. For her part, Gracie loves documenting her life on Instagram while showing off her natural body. Recently, she got slammed, with many saying they didn't get the point of her showing her body.
Gracie is the oldest of Tim McGraw's daughters, and due to one of her photos, she has been called extremely unhealthy while also being compared to her mother, who at 55, looks like a model.
"There seems to be so much aimed at making young women feel bad for not reaching an unattainable goal,' a critic commented beneath the photo. But despite the harsh comments, Gracie appears to take the negativity in stride and has her fair share of fans who think she's beautiful and relate to her authenticity. They even encouraged her to keep posting and ignore the haters and trolls. And indeed, Gracie did exactly as instructed, hitting back at the critics.



Gracie is so comfortable in her skin, even with stretch, marks, rolls, and cellulite, and hitting back, she wrote in a mirror selfie wearing a two-piece bathing suit with a quote from Norah Ephron: 'I've never been comfortable in a bikini, but I got this one for $10 and I'm feeling glorious.' 
The young singer has become something of a body-positive advocate, showing others how to love and evolve in how they view their bodies. Speaking about how she learned to accept the parts of her body that she had wished to change, Gracie said: "I was always deemed as 'unhealthy' because I had a little more weight on me, which really made me question myself more and more. In reality, I was actually a healthy person, but what was truly unhealthy about me was the way I was thinking."
Gracie also highlights the lack of inclusivity in clothing stores, with many not offering sizes for fuller-figured women and sometimes subjecting customers to body-shaming.
She notes that many stores have shifted to smaller sizes, making people feel larger than they are. Gracie emphasizes the importance of not succumbing to negative thoughts and reminds everyone that they are more than their dress size. She encourages embracing one's so-called "flaws," like cellulite or rolls, as beautiful. By focusing on the positive, you can learn to appreciate yourself and find your smile again.
Gracie McGraw uses her voice not only to sing but also to share relatable stories, whether it's a disastrous haircut or an unpleasant shopping experience, aiming to make her followers think, laugh, and learn.
Gracie McGraw, the oldest of Tim McGraw was born on May 5, 1997. She's an NYU graduate and has ventured into acting, following her father's path. Gracie has made appearances in Tyler Perry's "If Loving You Is Wrong." Their second daughter Maggie, born in 1998, graduated from Stanford in 2021 with a Master's. Audrey, born in 2001, graduated high school in 2020 and is now making waves in fashion and music, appearing in her dad's "7500 OBO" music video.
Tim McGraw appears to be very proud of his daughter, with the Friday Night Lights star writing, "Gracie, our oldest daughter, is an actress in L.A., and she makes me proud every day because she's such a strong, independent young lady who speaks her mind."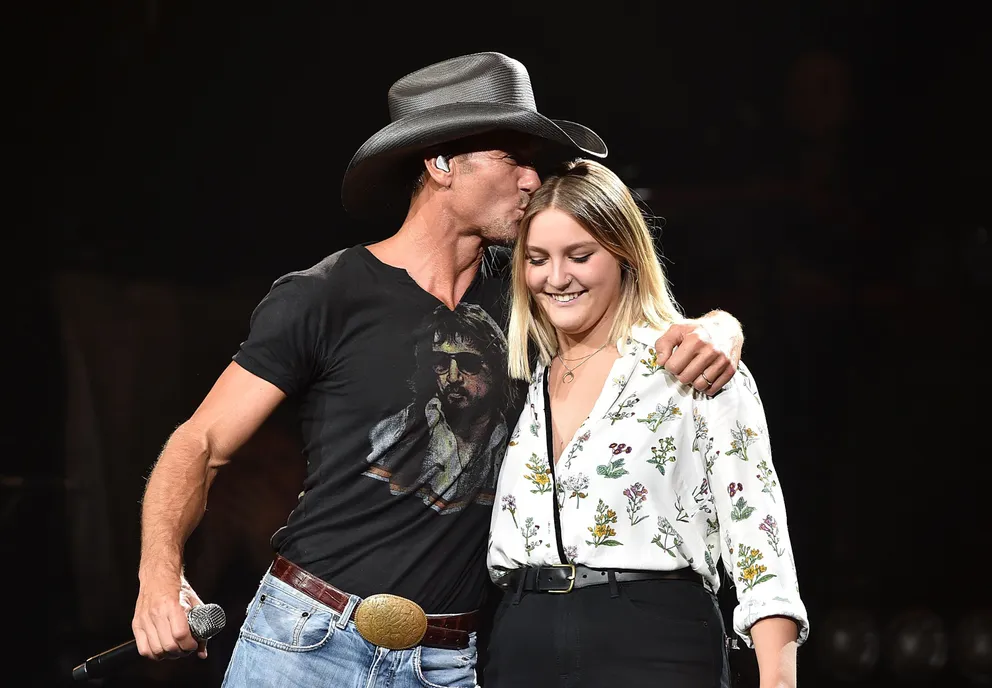 Tim McGraw, still amazed at how quickly his daughters have grown up, finds inspiration in their journeys and paths. For parents raising children in show business, the greatest joy is witnessing them become grounded adults who value themselves and others. When talking about his eldest daughter Gracie on her 25th birthday, the "Flicka" actor described her as sweet, talented, and possessing "a crazy big heart" in an Instagram post. He encouraged her to continue pursuing her dreams and being an inspiration to others.
"The young singer has become something of a body-positive advocate, showing others how to love and evolve in how they view their bodies," Tim wrote.
Friends and fans of the stars joined in wishing Gracie a happy birthday while she shared her photos and videos of celebrations with friends in Mexico. With her parents' support, Gracie is carving her path in the entertainment industry. In 2015, McGraw even invited her to join him on stage during one of his shows, where they performed "Here Tonight" from his "Damn Country Music" album as a father-daughter duo.
Speaking about how he and his wife support their daughter's aspirations, he said: "The more Faith and I talked about it and really started digging into it [we realized] how much it made sense to us and our family and our beliefs, and how we want our daughters to be represented." However, the couple made a conscious effort not to impose anything on their children but rather encouraged them to discover their paths. McGraw, who even shared a road-trip duet with his daughter singing a Barbra Streisand and Barry Gibb ballad on YouTube, is impressed by Gracie's powerful voice.
Read Next