Funny
The Daily Show Desus Nice's Perfect GOP Gag
The Daily Show Desus Nice kicked off his week as guest host discussing about Republicans.
The Daily Show Desus Nice, one-half of the beloved duo Desus and Mero, has recently taken on the guest host role on the show. Nice kicked off his week as guest host of "The Daily Show" with a discussion about Republicans. He chimed in on the GOP's ongoing struggle to elect a new House speaker to replace ousted Rep. Kevin McCarthy (R-Calif.). Notably, Jim Jordan (R-Ohio) failed to secure enough support for the role last week.
About nine Republicans are now in the race, The Daily Show Desus Nice noted alongside a graphic of said candidates.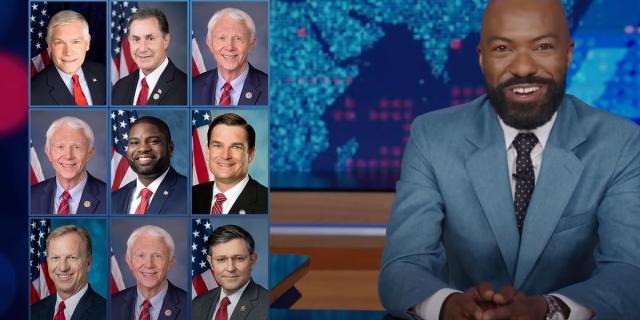 But reportedly, that was not all it seemed, as one of the candidates, Rep. Jack Bergman (R-Mich.), actually appeared three times. "All these white dudes look the same," said The Daily Show Desus Nice. "In fact, three of them are the same guy, and you didn't even notice. That's how similar they all are." However, while Nice acknowledges that he may not be the perfect fit for the full-time hosting gig, he sees this opportunity as a chance to connect with a wider audience and showcase his comedic talents.
Desus, known for his bi-coastal lifestyle, still feels a strong connection to his New York roots, even while living in LA. This connection is evident in his humor, which often draws on his experiences growing up in the Big Apple. It's his authenticity and relatability that endear him to fans across the country. Hosting 'The Daily Show' is no easy task; it requires staying informed about current events and doing thorough research. The Daily Show Desus Nice understands the gravity of the responsibility and is committed to doing his homework to ensure he delivers insightful and entertaining segments.
Read Next