Celebrity
Suzanne Somers and Alan Hamel: The Final Love Letter Before Her Passing
A private family burial for Suzanne Somers will take place this week, and a memorial will be held in November.
Suzanne Somers, the beloved actress known for her role in the hit TV show Three's Company, had a love story that won the hearts of many. Her husband, Alan Hamel, was not only her partner in life but also her biggest supporter. Together, they shared a bond that lasted for decades and served as an inspiration to others. In this article, we will take a closer look at the relationship between Suzanne Somers and Alan Hamel, tracing their journey from the early days of their courtship to their enduring love until Suzanne's unfortunate passing. Read on!
Table of Contents
Hamel's Love Letter To Suzanne Before Her Passing
Just a day before Suzanne Somers died, her husband, Alan Hamel, 87, gave her a handwritten love letter as a birthday present. Somers died at the age of 76 on Sunday, October 15, one day ahead of her 77th birthday. She battled with breast cancer for over 23 years. According to Somers' publicist, R. Couri Hay, after reading his letter, she went to bed and later died peacefully. As per People, the note read – "Love I use it every day, sometimes several times a day. I use it at the end of emails to my loving family. I even use it in emails to close friends. I use it when I'm leaving the house." "There's love, then love you and I love you!! Therein lies some of the different ways we use love. Sometimes I feel obliged to use love, responding to someone who signed love in their email, when I'm uncomfortable using love but I use it anyway."
"I also use love to describe a great meal. I use it to express how I feel about a show on Netflix. I often use love referring to my home, my cat Gloria, to things Gloria does, to the taste of a cantaloupe I grew in my garden. I love the taste of a freshly harvested organic royal jumbo medjool date. I love biting a fig off the tree. I love watching two giant blackbirds who live nearby swooping by my window in a power dive. My daily life encompasses things and people I love and things and people I am indifferent to. I could go on ad infinitum, but you get it. What brand of love do I feel for my my wife Suzanne? Can I find it in any of the above? A resounding no!!!! There is no version of the word that is applicable to Suzanne and I even use the word applicable advisedly."
"The closest version in words isn't even close. It's not even a fraction of a fraction of a fraction. Unconditional love does not do it. I'll take a bullet for you doesn't do it. I weep when I think about my feelings for you. Feelings… That's getting close, but not all the way. 55 years together, 46 married and not even one hour apart for 42 of those years. Even that doesn't do it. Even going to bed at 6 o'clock and holding hands while we sleep doesn't do it. Staring at your beautiful face while you sleep doesn't do it. I'm back to feelings. There are no words. There are no actions. No promises. No declarations. Even the green shaded scholars of the Oxford University Press have spent 150 years and still have failed to come up with that one word. So I will call it, 'Us,' uniquely, magically, indescribably wonderful 'Us."
Relationship Timeline
The Beginning of a Lifelong Love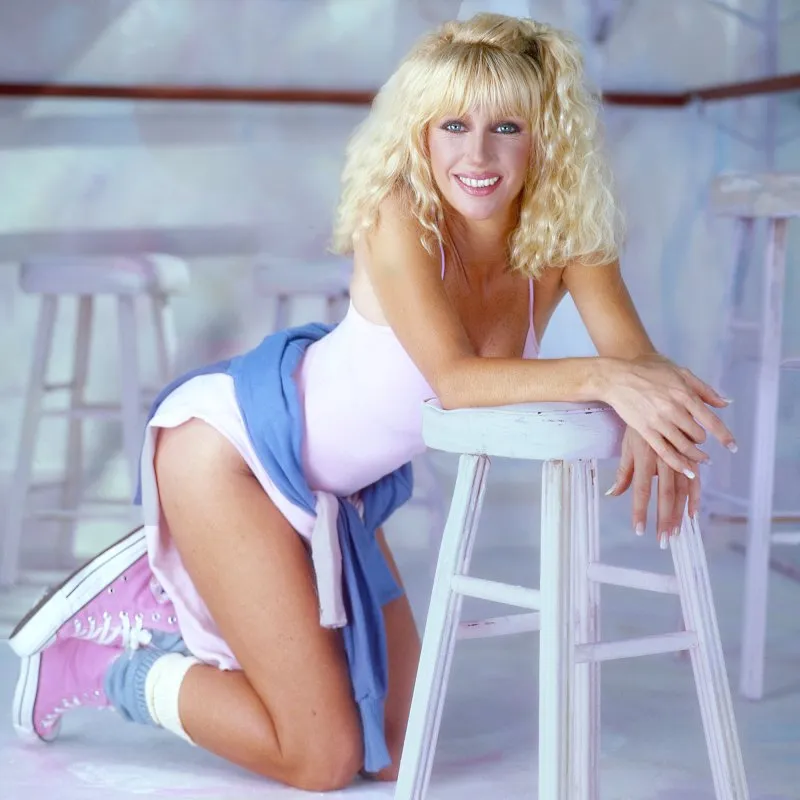 Suzanne Somers and Alan Hamel's paths first crossed in 1967 when Suzanne worked as a prize model on the popular game show, The Anniversary Game, which Alan hosted.
A Marriage Built on Love and Support
After almost a decade of dating, Suzanne Somers and Alan Hamel tied the knot in 1977. Their wedding marked the beginning of a lifelong partnership filled with love, support, and a deep understanding of one another. Suzanne had previously been married to Bruce Somers, with whom she had a son named Bruce Somers Jr. Similarly, Alan had three children from his previous marriage to Marilyn Shapiro.
The Power Couple: Love and Business
Their love for each other extended beyond their personal lives. In the 1980s, Alan Hamel took on a new role as Suzanne Somers' manager when she rose to fame with her role in Three's Company.
Building a Business Empire
In addition to their successful careers in the entertainment industry, Suzanne and Alan embarked on a joint business venture. They invested in ThighMaster, a fitness product, and promoted it through infomercials. Their dedication and hard work paid off, as they eventually bought out their business partners and became the sole owners of the company. The ThighMaster went on to sell over 10 million units.
A Love That Transcends Words
Throughout their 55 years together, Suzanne Somers and Alan Hamel shared a love that was indescribable. In a heartfelt love letter that Alan wrote to Suzanne, he expressed the depth of his feelings for her. He described how the word "love" fell short of capturing the essence of their relationship. No words, actions, or promises could adequately convey the love he felt for his wife.
A Lasting Legacy
Despite Suzanne's battle with breast cancer for over two decades, Alan Hamel remained by her side as her unwavering source of support. Tragically, Suzanne Somers passed away on October 15, 2023, just one day before her 77th birthday. Her publicist, R. Couri Hay, revealed that Alan had given her a handwritten love letter as an early birthday present, which she read before going to bed. Suzanne peacefully passed away in her sleep, leaving behind a legacy of love and inspiration.
Remembering Suzanne Somers
Suzanne Somers' impact on the entertainment industry and her genuine love for Alan Hamel will forever be remembered. Her talent, resilience, and unwavering spirit continue to inspire many. Alan, along with their blended family, cherishes the memories they shared and the love they experienced throughout their journey together.
Conclusion
Suzanne Somers and Alan Hamel's relationship was a testament to the power of love, support, and unwavering commitment. From their early days of courtship to their successful careers and enduring partnership, they showed the world what it means to love unconditionally. Suzanne's passing may have marked the end of a remarkable love story, but her legacy lives on through the memories she created with Alan and the impact she made on the lives of those who admired her. Suzanne Somers and Alan Hamel will forever be remembered as a couple who exemplified the true meaning of love.
Read Next