Celebrity
Savannah Guthrie is Taylor Swift For Halloween
Savannah Guthrie and her little girl twinned as Taylor Swift this Halloween.
Savannah Guthrie, the television personality and co-anchor of the Today show, is making waves with her Halloween costume. In a daring move, she pays tribute to iconic pop star Taylor Swift. Guthrie stunned audiences as she donned a Taylor Swift-style bodysuit and took to the stage with her daughter for a memorable performance. As Halloween approached, Savannah Guthrie teased her fans with hints about her costume choice, leaving them curious.
And as the day finally arrived, she did not disappoint. Savannah Guthrie stepped onto the Today show stage in a Taylor Swift-inspired ensemble of a bodysuit.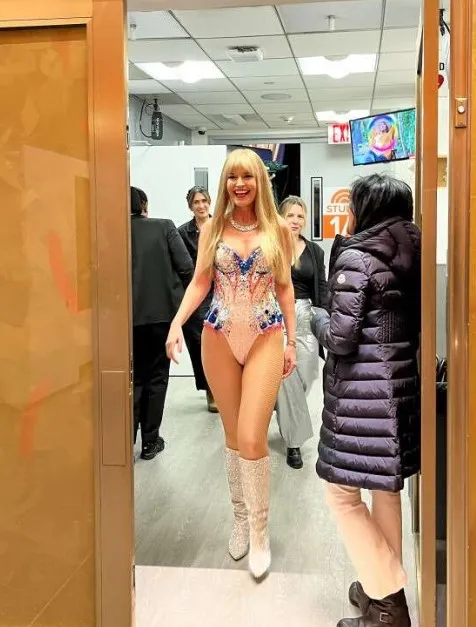 But the surprises didn't end there. Guthrie's performance took an unexpected turn when she invited her daughter to join her on stage. The audience was treated to an adorable mother-daughter dance routine. Guthrie's daughter, like her mother, was dressed in a Taylor Swift-inspired outfit, making it a truly memorable moment for both Guthrie and her fans. The performance was met with an overwhelmingly positive response from viewers.
Social media platforms buzzed with excitement as fans shared their love for Guthrie's dedication and creativity. Many praised her for not only embracing the spirit of Halloween but also for the strong bond she shares with her daughter. This remarkable display of talent and affection highlights the multifaceted nature of Savannah Guthrie. Known for her professionalism and journalistic expertise, Guthrie's Halloween performance showcased her playful and fun-loving side. It served as a reminder that behind the news anchor's persona lies a vibrant personality ready to entertain and surprise.
FAQs
How did Savannah Guthrie celebrate Halloween?
She celebrated Halloween by channeling Taylor Swift with a daring bodysuit and a memorable performance on the Today show.
Who joined Savannah Guthrie on stage during her performance?
Her daughter joined her on stage, creating an adorable mother-daughter dance routine that delighted audiences.
What did Savannah Guthrie's Halloween costume represent?
Her Halloween costume paid tribute to the iconic pop star Taylor Swift, capturing her style and essence.
Read Next