Celebrity
Sadie Sink: Every Facts About The "Stranger Things" Star
Sadie Sink has performed in a few stage productions, including Annie, The Audience, and White Christmas.
Sadie Sink has taken Hollywood by storm with her performances on both the big and small screens. Known for her roles in popular TV shows like "Stranger Things" and her appearances in movies such as "Eli" and "The Glass Castle," Sink has quickly become a rising star. With her remarkable acting skills and charming personality, Sink has captured the hearts of millions of fans worldwide. In this article, we will delve into Sink's personal life, her journey in the entertainment industry, and facts about this young star.
Table of Contents
Background
| | |
| --- | --- |
| Zodiac Sign | Aries |
| Professions | Singer, Actress |
| Religion | Christianity |
| Language | English |
| Nationality | American |
| Ethnicity | Caucasian |
| Complexion | White |
| Eye Color | Blue |
| Hair Color | Brown |
Early Life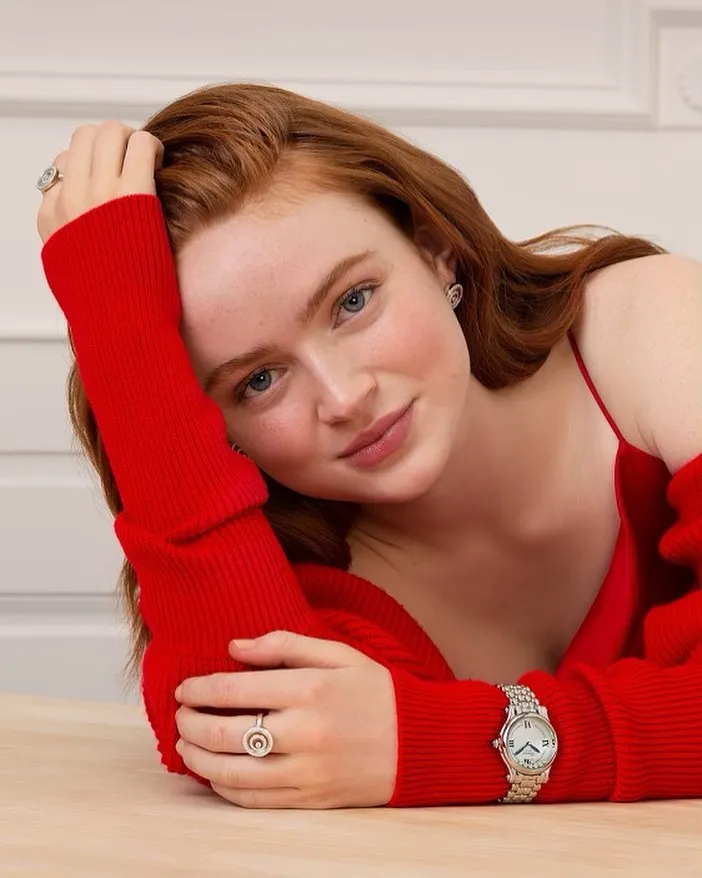 She was born on April 16, 2002, in Brenham, Texas, in the United States. Sink grew up in a loving and supportive family, with her father, Casey Adam Sink, working as a rugby coach, and her mother, Lori Elizabeth Sink, being a mathematics teacher. Sink has three older brothers, Mitchell, Spencer, and Caleb, as well as a younger sister named Jacey. Despite the age differences, Sink shares a close bond with her siblings, especially her sister Jacey, who is also an actress.
Acting Career
Sink's passion for acting was evident from a young age. At just seven years old, she attended a community theater near Houston, where she discovered her love for the stage. Sink's natural talent and dedication to her craft quickly caught the attention of casting directors, leading to her first professional acting opportunities. Sink made her debut in the entertainment industry in 2012, starring as Annie in the play "Annie" at a local theater. Her exceptional performance and stage presence set the stage for her future success. Sink continued to hone her acting skills through various roles in community theater productions.
Breakthrough Role: "Stranger Things"
Sink's big break came when she landed the role of Maxine "Max" Mayfield in the hit Netflix series "Stranger Things." Joining the show in its second season, Sink quickly won over both critics and audiences with her portrayal of the feisty and adventurous Max.
How Much Does Sadie Earn Per Stranger Things Episode?
According to Statista, it was reported that Sadie Sink earned a salary of $150,000 per episode for her role in "Stranger Things." With 10 episodes in Season 2 and 8 episodes in Season 3, her earnings from these two seasons totaled $2.7 million. This substantial income has contributed to her current estimated net worth of nearly $3 million. Considering her expanded role in Seasons 3 and 4, it's reasonable to anticipate that she will be earning even more for her participation in upcoming episodes of "Stranger Things."
Other Projects
In addition to her role in "Stranger Things," Sink has also made appearances in several films. She showcased her acting prowess in the 2016 movie "Chuck," where she played the character Kimberly. Sink's performance received critical acclaim, solidifying her position as a rising star in Hollywoodhttps://greenlemon.me/eli-a-boy-whos-allergic-to-the-world-meets-the-conjuring-and-befriended-stranger-things/. Sink's dedication to her craft extends beyond acting. She has also ventured into the world of modeling and has appeared in print ads for renowned brands like Kate Spade, Prada, and Nike. Her natural beauty and effortless style have made her a sought-after model in the fashion industry.
Movies
2016: "Chuck" in the role of Kimberly
2017: "The Glass Castle" portraying Young Lori Walls
2019: "Eli" as Haley
2021: "Fear Street Part Two: 1978" where she played Ziggy Berman
2021: "Fear Street Part Three: 1666" in the dual role of Constance and Ziggy Berman
2021: "All Too Well: The Short Film" as Her
2022: "The Whale" cast as Ellie Sarsfield
2022: "Dear Zoe" where she portrayed Tess DeNunzio
TBA: "Berlin Nobody" as Mazzy
Television Shows
2013: "The Americans" in the role of Lana
2014: "Blue Bloods" portraying Daisy Carpenter
2015: "American Odyssey" as Suzanne Ballard
2016: "Unbreakable Kimmy Schmidt" appears as Tween Girl
2017 to present: "Stranger Things" where she plays the character Maxine Mayfield
Stage Performances
2011: "White Christmas," where she portrayed Susan Waverly
2012: "Annie" in the roles of Annie and Duffy (alternating)
2012 to 2014: Continued in "Annie" as Tessie and Duffy (alternating)
2015: "The Audience" in the role of Young Queen Elizabeth II
Taylor Swift's "All Too Well" short film
Sadie Sink revealed to The Hollywood Reporter that her experience working on "Stranger Things" Season 4 played a pivotal role in preparing her for her role in the "All Too Well" short film. She mentioned that the emotionally charged scenes and the need to practice vulnerability onscreen in "Stranger Things" helped her develop the skills necessary for her part in the short film. She expressed her intent to continue tapping into these emotions in her future projects. Notably, Taylor Swift had Sadie Sink and Dylan O'Brien specifically in mind for her film. In an interview with E!'s Daily Pop, Swift mentioned that she reached out to them directly, sharing that she had already created a complete treatment, script, and visual references for the project. Swift was overjoyed when they both agreed to be a part of it, as she hadn't considered any backup choices for the roles.
Personal Life and Hobbies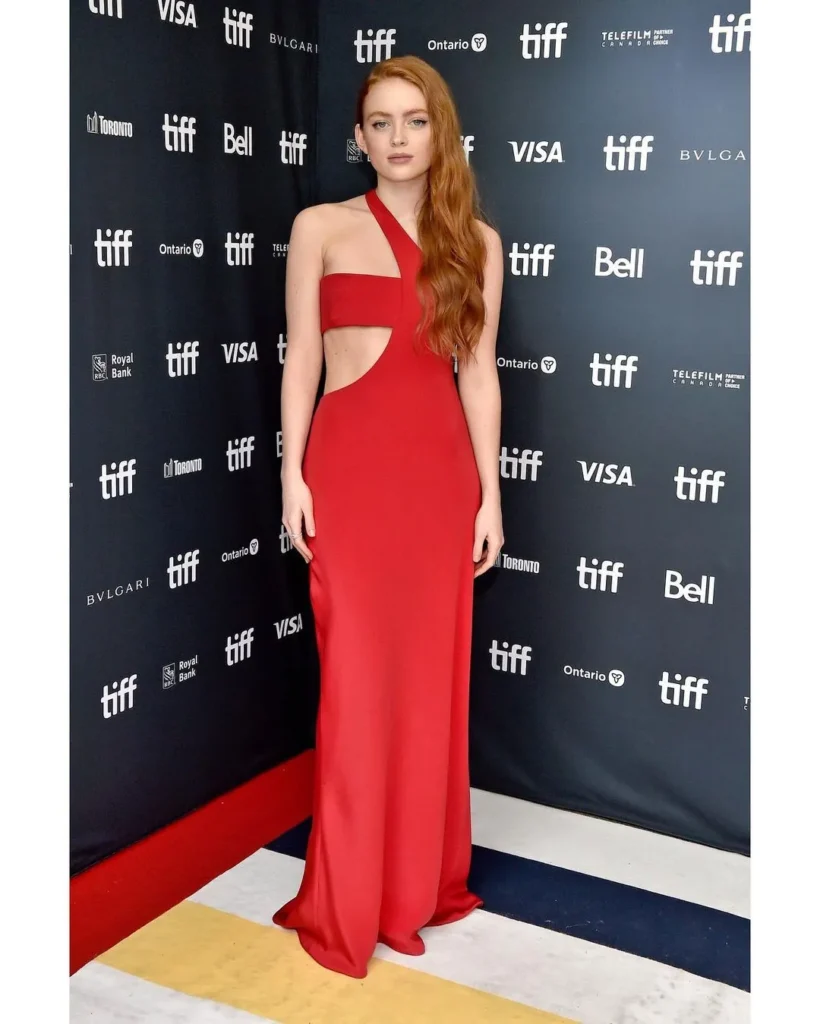 When Sink is not busy working on her acting projects, she enjoys pursuing her hobbies and spending time with her loved ones. She has a passion for skateboarding, which she considers one of her favorite pastimes. Sink's adventurous spirit and love for adrenaline-fueled activities are reflected in her choice of hobbies. In terms of personal preferences, Sink has a fondness for waffles and considers them her favorite food. The color blue holds a special place in her heart, and she finds it both calming and inspiring. When it comes to sports, Sink enjoys watching and playing rugby and baseball.
Struggles With Imposter Syndrome
In a June 1 interview with Glamour UK, Sadie Sink candidly discussed the challenges of working in the entertainment industry from a young age. Reflecting on her journey, Sadie shared, "Growing up in this industry, you always find yourself making comparisons to others." She acknowledged that this tendency to compare can lead to self-doubt and become a source of significant insecurity, especially when it comes to her growth as an actor. Over the years, Sadie has honed her ability to cope with self-criticism and the societal pressures that often accompany fame.
She emphasized, "As you gain more experience, it becomes less about competition and the nagging question of 'Am I good enough?' and more about discovering your own identity while tuning out the noise that surrounds the entertainment industry." To safeguard her mental health, Sadie admitted that she doesn't regularly use social media. She explained, "I don't have the Instagram app or any social media apps on my phone. Occasionally, I'll download them to check in, but I prefer not to engage with the negative aspects of social media." She further added, "It took me a while to realize that social media probably isn't the best place for me, but now I really don't indulge in it much." T
Relationship
Sadie Sink is in a relationship with Patrick Alwyn. The pair have been spotted together on multiple occasions, and their interactions appear to go beyond a platonic relationship. Their first public appearance together dates back to 2021 in New York, and since then, photos of them together have been widely circulated on various social media platforms
Social Media Presence
Sink is an active presence on social media platforms, allowing her fans to connect with her and stay updated on her latest projects. She has a Twitter profile where she shares insights into her life, interacts with fans, and promotes her work. Sink's Instagram account is filled with behind-the-scenes glimpses, stunning photoshoots, and personal moments beyond the spotlight.
Sadie Sink's Twitter Profile @SadieSink
Sadie Sink's Instagram Profile @SadieSink_
Modeling Journey
Sadie Sink embarked on her journey in the fashion world with her inaugural fashion campaign for Miu Miu during the holiday season of 2017. Subsequently, she graced the spotlight in Kate Spade's Spring 2019 campaign. Impressively, in the previous year, Sadie was chosen as one of the faces for Givenchy's campaign promoting their highly popular lipstick, Le Rouge Deep Velvet. Her involvement in the fashion scene extended to the runways of Paris Fashion Week, where she featured in Undercover's Fall 2018 show, showcasing her versatility as a model in the industry.
Net Worth
Sadie Sink's estimated net worth as of 2023 is approximately $1 million. Her career, which began in childhood, has seen her excel in the entertainment industry with a range of notable roles.
Philanthropy and Activism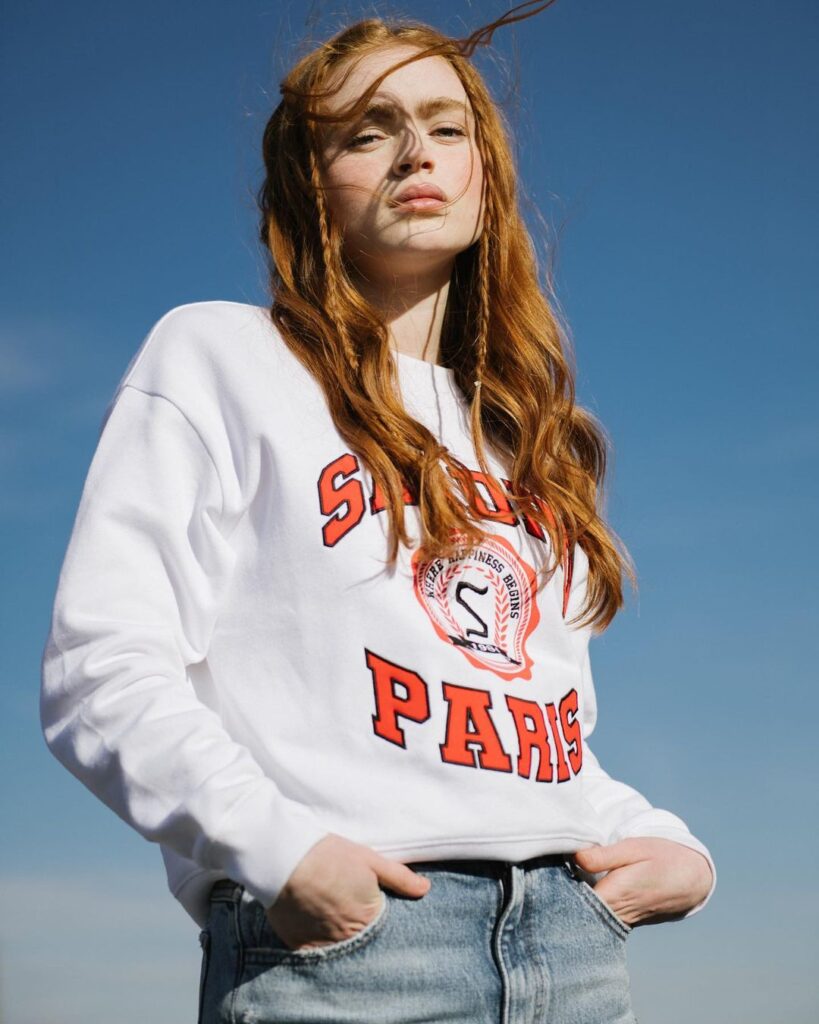 Sink is not only a talented actress but also a passionate advocate for various causes. She uses her platform to raise awareness and support organizations that fight for human rights and animal welfare. Following the tragic murder of George Floyd in 2020, Sink expressed her support for the Black Lives Matter movement by posting a black screen image on her Instagram.
She also shared resources and encouraged her fans to get involved in the fight against racial injustice. Sink is also an animal lover and actively supports organizations dedicated to animal rights. She has been involved with "The Gentle Barn," a sanctuary for rescued animals, and has urged her fans to learn more about animal welfare and support organizations like "Pet Rescue New York" and the campaign against animal testing led by "cruelty-free international."
Conclusion
Sadie Sink's rise to stardom is a testament to her undeniable talent and unwavering dedication to her craft. From her early days in community theater to her breakthrough role in "Stranger Things," Sink has proven herself to be a force to be reckoned with in the entertainment industry. With her magnetic personality, versatility as an actress, and commitment to making a difference in the world, Sink is undoubtedly a rising star to watch. As she continues to take on new projects and showcase her immense talent, there is no doubt that Sadie Sink's star will continue to shine brightly in Hollywood.
FAQ
Who is Sadie Sink, and what is she known for?
Sadie Sink is an American actress known for her breakthrough role as Maxine "Max" Mayfield in the hit Netflix series "Stranger Things."
When and where was Sadie Sink born?
Sadie Sink was born on April 16, 2002, in Brenham, Texas, United States.
How did Sadie Sink start her career in entertainment?
Sadie Sink's journey in the entertainment industry began when she expressed her desire to be a part of theater at a young age. Her mother enrolled her in a local theater in Houston, Texas.
What role did Sadie Sink play in "Stranger Things," and what was her performance known for?
In "Stranger Things," Sadie Sink portrayed the character of Maxine "Max" Mayfield, known for being strong-willed and adventurous. Her performance in this role received praise for its depth and complexity.
Can you name some other film and television appearances Sadie Sink has made?
Apart from "Stranger Things," Sadie Sink has appeared in the film "Chuck" as Kimberly and made guest appearances in TV shows like "The Americans" and "Blue Bloods."
Has Sadie Sink received any awards or recognition for her work?
Yes, Sadie Sink has received recognition and awards, including winning the Hollywood International Independent Documentary Award for Best Narration for her work in the film "Dominion." She has also been nominated for the MTV Movie & TV Awards and the Screen Actors Guild Awards.
What is known about Sadie Sink's personal life and relationships?
At the age of 20, Sadie Sink keeps her personal life private. She is rumored to be in a relationship with Patrick Alwyn, although neither party has confirmed this publicly.
What is Sadie Sink's estimated net worth, and how has she achieved financial success?
As of 2023, Sadie Sink's estimated net worth is $2 million. Her financial success comes from her roles in "Stranger Things," and other film and television projects, as well as brand deals and sponsorships.
Can you tell us about Sadie Sink's upcoming projects?
Sadie Sink has exciting projects on the horizon, including her role in the highly anticipated film "Fear Street" and its sequel, "Fear Street 2." She will also star in the film "Dear Zoe" as Tess DeNunzio, showcasing her versatility as an actress.
Read Next

Joseph Adeyinka
Joseph Temitope Victoria, nicknamed 'Temmie,' is a GreenLemon Author and Content Creator. After her studies at Olabisi Onabanjo University, where she got a B.Sc. degree in Geography and Regional Planning, Temitope worked as Journalist with a specialization in Business and Economy. Temitope also holds an M.Sc. degree in Population and Manpower Planning, and interestingly she's a self-taught poem writer. She owns a website 'TemmiesAnthology' and has spent nearly 6years writing on several niches. Whenever there's free time, she spends it editing books – one of her newest is 'In His Green Book' by Terence A. Asitibasi. Temitope can certainly do whatever she sets her mind on.