Entertainment
Lifetime's Dance Moms Reunion 2024
Dance Moms reunion 2024 is happening but there's no Abby Lee Miller in sight.
Lifetime's Dance Moms has just announced an epic reunion special set to air in 2024. The much-loved show, which followed the lives of young dancers and their ambitious moms, won the hearts of fans around the world during its eight-season run from 2011 to 2019. The Dance Moms reunion episode promises to bring back fan-favorite dancers from the series, but there's one person we won't be seeing on the reunion stage: Abby Lee Miller.
The choreographer and studio owner of the Abby Lee Dance Company (ALDC) will not be making a comeback for the Dance Moms reunion in 2024.
While her absence may come as a disappointment to some, it opens up the opportunity for new faces to shine and share their stories. JoJo Siwa, Chloé Lukasiak, Paige Hyland, Brooke Hyland, Kendall Vertes, and Kalani Hilliker shared a mirror selfie on the Dance Moms Instagram account with the caption, "You heard it here first. The squad is officially back together for a #DanceMoms reunion coming in 2024 only on Lifetime!!"
One familiar face we can expect to see is Kendall Vertes, who joined the cast in the show's second season. Interestingly, her real audition process was not shown on TV, and fans will finally get to learn the untold story behind her selection for the Junior Elite Competition Team. It's been nearly four years since Dance Moms officially ended, and fans await a reunion. The cancellation of plans for season 9 in 2020 due to the accusations against Abby Lee Miller left a void in the hearts of Dance Moms enthusiasts everywhere.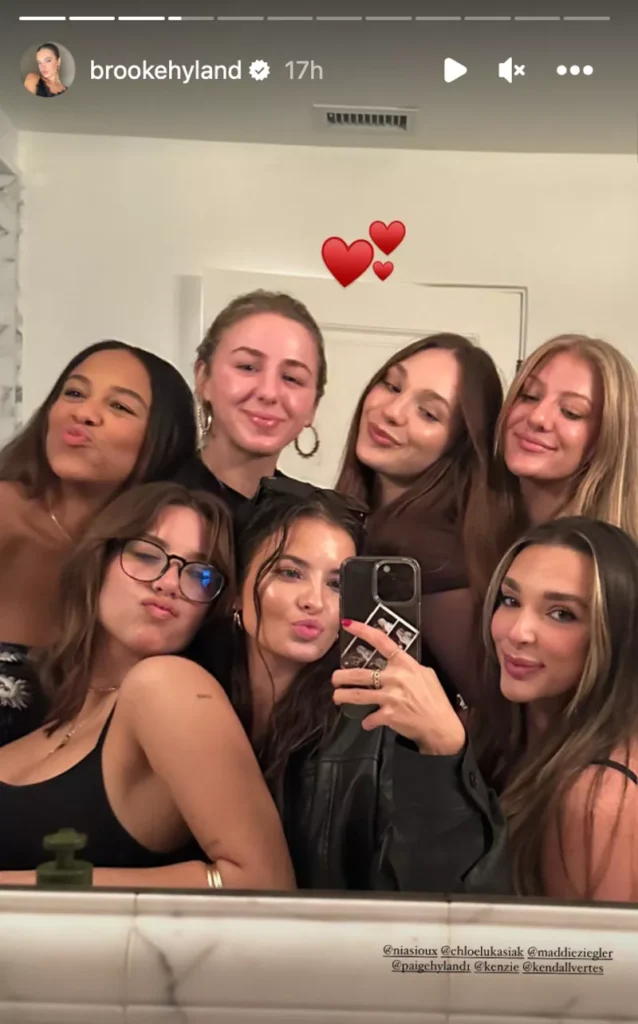 But fear not, the wait is finally over! The reunion special is like a time machine, taking us back to the thrilling moments we cherished and giving us a chance to catch up with our favorite dancers and moms. Brooke Hyland also shared the photo on her own Insta account, and wrote, "Took a 10-year break, but returning to your TV for a Dance Moms reunion in 2024." Notably, Hyland and her sister Paige left the show after season 4 in 2014 after their mother was arrested and appeared in court for assaulting Abby Lee Miller.
However, fans noted the absence of other non-Abby Lee Millers from the group snap on Instagram, such as Maddie Ziegler, who found fame outside of Dance Moms thanks to a series of videos with Sia. Siwa instantly responded to fans in the comments, "Grateful for this day! For everyone wondering about the few people missing, everyone was invited today, but only some wanted to be here." So mark your calendars and get ready to dance down memory lane with the Dance Moms reunion special in 2024.
FAQs
When will the Dance Moms reunion special air?
The Dance Moms reunion special is scheduled to air in 2024.
Will Abby Lee Miller be part of the reunion?
No, Abby Lee Miller will not be returning for the reunion special.
Who can we expect to see on the reunion episode?
The reunion special will feature fan-favorite dancers and moms from the original series.
Will we learn more about Kendall Vertes' audition process?
Yes, viewers will finally get to learn the untold story behind Kendall Vertes' selection for the Junior Elite Competition Team.
Why was Dance Moms canceled after eight seasons?
Dance Moms was officially canceled after eight seasons when Abby Lee Miller faced accusations in 2020.
Read Next