Celebrity
is Joe Jonas & Sophie Turner Back As Singer Wears Wedding Ring To Perform While She Watches From The Crowds
Joe Jonas has been seen going without his wedding ring as he prepares to file for divorce.
The couple hit headlines with claims they're heading for divorce and Joe Jonas for his part, has been seen going without his wedding ring in weeks. Sources allege the singer is preparing to file for divorce after his relationship with Sophie Turner suffered serious problems. They said he had been caring for their two young daughters, Willa and a 14-month-old whose name hasn't been revealed, pretty much all of the time for the past three months.
Now, the couple has left fans confused, as Joe Jonas was seen sporting his wedding ring during a Jonas Brothers concert in Texas. 
He made no mention of the marital divorce claims during his performance, with eagle-eyed fans noticing Sophie, 27, in the crowds as well.
Joe joined his brothers Nick, 30, and Kevin, 35 at The Moody Center in Austin. A fan had their eyes on the brothers on stage, writing 'BREAKING UPDATE: not only is Joe wearing his ring tonight in AUSTIN BUT SOPHIE IS THERE I REPEAT SOPHIE IS IN THE BUILDING.' Per DailyMail, Sophie might have been at the concert to support her husband or to care for their two children after sources said Joe has been handling parenting duties in recent months.
This comes as Joe Jonas, who started dating Sophie Turner in 2016, left fans baffled over the weekend when he sported the wedding ring again in a snap with his brothers enjoying the Texas sunset. On the same day, he took to Instagram to simply wish fans a happy Labor Day weekend. He didn't address the rumors about his marriage but noted how their ongoing tour has been incredible so far. He then added, 'Having a little family time in the Texas sunset tonight before a big Austin show tomorrow.'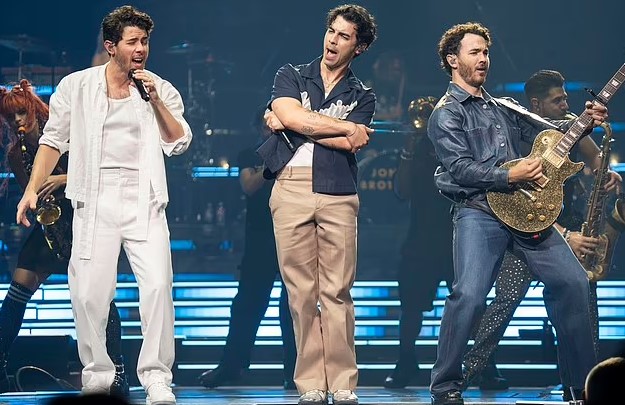 Read Next