Beauty
Everything About Maura Higgins, The Social Social Media Host For Love Island USA
Maura Higgins has over 3.1 Million followers which she has earned through awesome images and short videos.
Maura Higgins, born on November 25, 1990, is a reality TV star and social media personality. She rose to fame through her appearance on the reality television show "Love Island" in its fifth season in 2019, where she finished in fourth place. Since then, she has become a known figure in the entertainment industry, making appearances on various TV shows and venturing into business opportunities.
Table of Contents
Profile
| | |
| --- | --- |
| Full Name | Maura Margeret Higgins |
| Nickname | Princess |
| Birth Date | November 25, 1990 |
| Height | 5 feet 7 inches |
| Zodiac | Sagittarius |
| Relationship Status | In a relationship with Curtis Pritchard |
| Net Worth (approx.) | $500,000 |
Early Life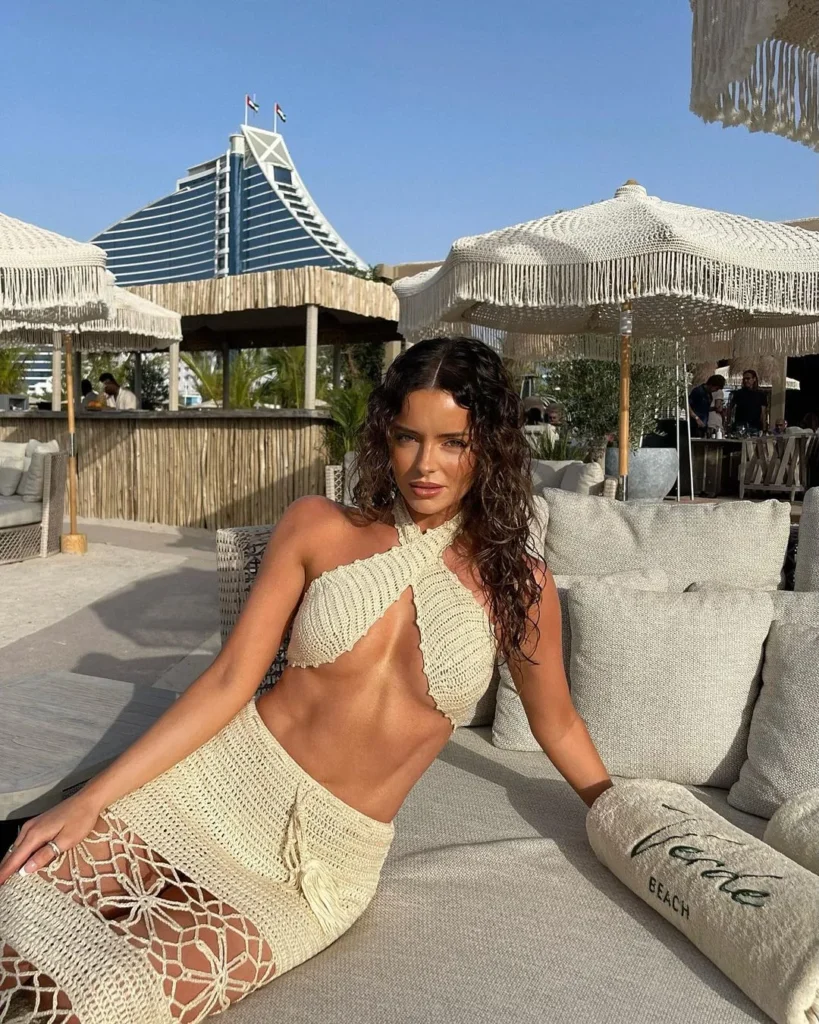 Maura was born and raised in Longford, Ireland. She has a sister named Becki Higgins, who is equally talented and made her modeling debut at the Ireland AM fashion event. Maura completed her high school and college education in Ireland and prepared herself for a career in the entertainment industry.
Love Island Journey
She made her mark on the reality TV show, Love Island in 2019. Maura's first date on the show was with Tommy Fury, a professional boxer. However, her celebrity crush is Chris Hemsworth, and she revealed that she had no fears when it came to pursuing her romantic interests on the show. Maura's journey on Love Island led her to finish in fourth place with Curtis Pritchard, a professional dancer. Despite some initial complications, Curtis chose Maura over his previous partner, Amy Hart, and they formed a strong bond during their time on the show.
Relationship: Who is Maura Higgins dating now?
It's reported that Higgins recently enjoyed a romantic dinner in Fiji with her new boyfriend, Bobby Holland Hanton. The connection between Maura and Bobby was established in May, although they have maintained a low profile about their relationship. Bobby, who resides in London, is a prominent stunt performer in Hollywood and has shared a close bond with actor Chris Hemsworth over the past decade while serving as his stunt double. Before taking on the role of Thor's stunt double, Bobby gained recognition for his work as Daniel Craig's stunt double in the James Bond film "Quantum of Solace," which marked the beginning of his successful career.
Career and Achievements
Apart from her success on Love Island, Maura Higgins has achieved significant milestones in her career. She has worked as a model and ring girl, collaborating with brands like Monster. Maura's talent and beauty have also led her to various opportunities, including a modeling shoot for Liam Payne in 2017. Additionally, she has appeared in the music video "Get Low" and has been a part of events such as FIA World Rallycross and Bellator MMA.
Career Timeline:
2017: Collaboration with Liam Payne
In 2017, Maura Higgins had the opportunity to collaborate with Liam Payne on his single "Get Low."
2018: Viral Video and Ring Girl
Maura gained significant attention in 2018 when a video of her drifting a car for Monster Energy went viral. The video aimed to inspire women to pursue their passion for driving. Additionally, she worked as a ring girl and made appearances in high-profile matches, including sharing the ring with boxing champion Anthony Joshua.
2019: Love Island Fame
Maura's popularity skyrocketed in 2019 when she participated in the fifth season of the reality show "Love Island." Her vibrant personality on the show earned her a fourth-place finish and a massive fan base.
2020: Dancing on Ice
In 2020, Maura took part in the 12th season of "Dancing on Ice" as a contestant. Paired with professional skater Alexander Demetriou, she showcased her dancing skills on the ice rink.
Movie Career: Future Projects
Maura Higgins is set to launch a career as a comedy actress after landing her first major movie role. She has started working on a film called The Spin in Belfast. A source told The Sun: 'Maura plays a character called Rose in The Spin. It's a British film that follows two friends traveling through Ireland looking for old music records. The film is a comedy and Maura was the perfect fit for the role. She started work on The Spin over the weekend in Belfast and really impressed the producers.' The source added, 'Maura throws herself into any new projects and is always keen to learn. 'The film could open a lot of new doors for Maura and it's a very exciting time.' Muara had also teamed up with Christine Quinn's publicist to boost her profile in the United States.
The New Social Media Host: Love Island USA
She is eager to secure more work in the US after landing a role as a social media host for Love Island USA and she has turned to former Selling Sunset star Christine's team to help her. Speaking about her role as a host for Love Island USA, a source also told The Sun, 'Maura continues to make waves across the pond as the digital host for Love Island USA and it's come with huge demand and work opportunities Stateside. Maura is keen to follow in Christine's footsteps by conquering the fashion world as well as becoming a regular face on US TV. Maura's management from the UK was spotted taking meetings with American television executives and brands in Los Angeles earlier this year. Expanding Maura's team is part of a carefully drawn-out global strategy.'
Physical Appearance
Higgins stands at a height of 5'7″ (170 cm) and maintains a curvy physique. With her striking brunette hair and black eyes, Maura exudes confidence. Her body measurements are 33-26-35, and she wears a UK shoe size 6.5.
Social Media Presence
Maura Higgins has a significant presence on various social media platforms, including:
Muara Higgins's Instagram: @maurahiggins
Her Instagram account, boasts a following of 2.3 million fans. She shares glimpses of her personal life, modeling shoots, and other exciting updates with her followers. Maura is also active on Twitter, where she has a dedicated fan base of 107K followers. And her Facebook page has garnered 4,506 likes.
Net Worth and Earnings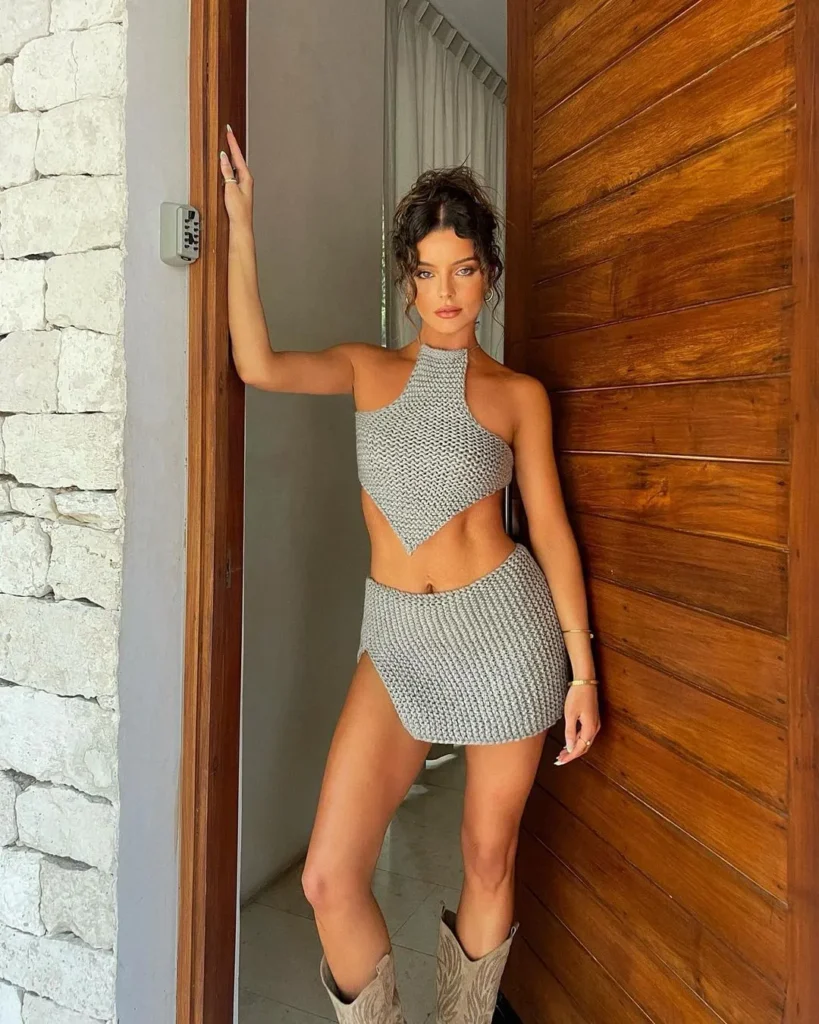 Higgins's success in the entertainment industry has contributed to her net worth, which is estimated to be around $500,000. Apart from her appearance on Love Island, Maura earns a substantial income through her modeling assignments and commercial advertisements, bringing in approximately $8,000 to $12,000 per month.
Lesser-Known Facts about Maura Higgins
Maura Higgins has a close relationship with pop star Ariana Grande.
She has a strong presence on social media, with over 2.3 million followers on Instagram.
Maura's height is 5'7″ (170 cm), and she weighs around 55 kg (121 lbs).
Her favorite actors are Chris Hemsworth and Jessica Alba.
Maura enjoys watching films and shopping during her leisure time.
She aspires to visit New Jersey, which is her dream holiday destination.
Maura is a fan of continental cuisine and loves exploring different flavors.
Conclusion
Higgins has made a significant impact on the entertainment industry with her charismatic personality and multifaceted talents. From her rise to fame on "Love Island" to her successful business ventures, she continues to inspire and entertain her fans. Whether she's presenting on television, launching her makeup collection, or advocating for women's empowerment, she leaves an indelible mark on her audience.
FAQs
Who is Maura Higgins and how did she become famous?
Maura Higgins is an Irish model, ring girl, and TV personality. She became widely known after appearing on the reality TV show Love Island in 2019.
What is Maura Higgins' early life and education background?
Maura Higgins was born in Longford, Ireland.
Is Maura Higgins currently in a relationship, and who is she dating?
Yes, Maura Higgins is currently in a committed relationship with Bobby Holland Hanton.
What is Maura Higgins' net worth and how does she earn her income?
Maura Higgins' net worth is estimated to be around $500,000. She earns income through modeling assignments, commercial advertisements, and her appearance on Love Island. Her monthly earnings range from $8,000 to $12,000.
What is Maura Higgins' physical appearance like?
Higgins stands at a height of 5'7″ (170 cm) and has a curvy physique with body measurements of 33-26-35. She has distinctive features, including captivating black eyes and brunette hair.
Read Next