Celebrity
Grammy Nominated Bobbi Storm Nearly Removed From Flight For Singing
Bobbi Storm is featured on an album that is nominated for a Grammy this year.
A Delta Air Lines flight turned into an unexpected battleground when a Grammy-nominated singer refused to keep her vocal talents to herself. Bobbi Storm, a vocalist on the Grammy-nominated album "The Maverick Way Complete" by Maverick City Music, found herself at odds with a Delta crew member after attempting to serenade her fellow passengers with her newly released gospel single, "We Can't Forget Him." The incident, caught on camera and shared on Instagram, quickly went viral, igniting a heated debate on social media.
As the video begins, we see Bobbi Storm confidently striding up the aisle to share her exciting news with her fellow travelers, about being nominated.
Bobbi had just learned that she was up for not one but two Grammys. However, her enthusiasm quickly turned into a clash of wills when a Delta crew member instructed her to take her seat. She did take her seat, but she couldn't resist sharing her recent accomplishments with those around her. As she announced her Grammy nominations and the release of her new single, she unknowingly set the stage for a confrontation that would unfold in the following moments. The crew member approached Storm politely but firmly, requesting that she be quiet during the flight.
Storm, driven by her faith and a strong belief that she was following the Lord's guidance, refused to yield. The tension escalated when the crew member made it clear that failure to follow instructions would result in her being removed from the flight. Initially, Storm seemed to acquiesce, but as soon as the crew member walked away, she whispered her intention to continue singing her heart out. In the aftermath of the incident, Delta Air Lines confirmed their communication with Bobbi Storm but declined to provide further details. They emphasized the importance of following crew instructions for the safety of both passengers and crew members.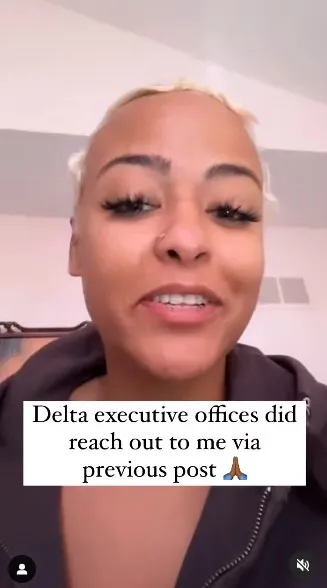 Storm, in a follow-up video, expressed her desire for understanding and respectful treatment, stating that she did not wish for the crew member to face repercussions. The incident sparked a flurry of comments on Storm's Instagram posts, with opinions divided on who was in the right. Some criticized Storm for disrupting fellow passengers and failing to respect the crew's authority, while others empathized with her passion and artistic expression. This incident joins a growing list of unruly passenger behavior in 2023, highlighting the need for mutual respect and adherence to airline regulations.
FAQs
Who is Bobbi Storm?
Bobbi Storm is a Grammy-nominated singer and featured vocalist on Maverick City Music's album "The Maverick Way Complete."
What happened on the Delta Air Lines flight?
Bobbi Storm attempted to sing her newly released gospel single and engaged in a confrontation with a Delta crew member who asked her to be quiet.
Was Bobbi Storm removed from the flight?
Storm was not removed from the flight, but the incident sparked a discussion about respecting crew instructions and the appropriate behavior of passengers.
Are there any consequences for Bobbi Storm or the Delta crew member?
Delta Air Lines confirmed their communication with Storm but did not disclose any further details. Storm expressed her desire for understanding rather than reprimanding the crew member.
Read Next