Celebrity
Kanye West 'Wife' Bianca Censori Walks Through Italy In Nude Pants & Cushion To Cover Br**sts
In her most bizarre look yet, Bianca Censori stepped out with beau in ripped garment and purple cushion.
In her most indecent appearance yet, the Australian Architect walked through Italy, holding a pillow cushion over her br**sts to hide them from the public, as she and rapper beau Kanye West were earlier seen at a hotel in Florence. The topless look comes as a local photographer revealed Bianca Censori and Kanye West enjoyed a shopping trip at designer brand Marni while sporting the wild ensemble.
Before walking through Italy with the purple cushion, Bianca Censori clutched onto it for a late-night dinner with Kanye. However, she appeared to have worn a long-sleeved bodysuit.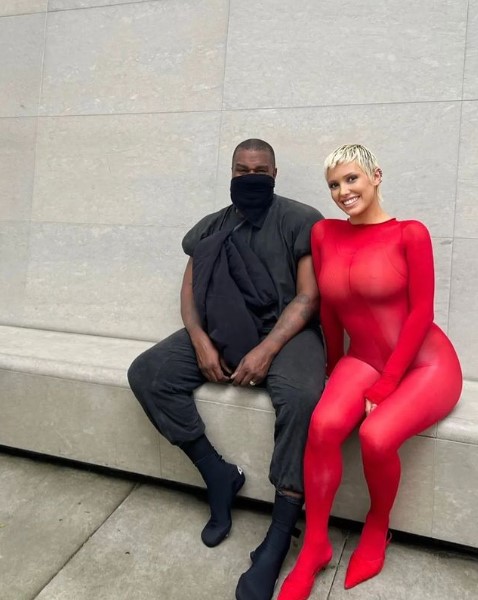 But as the pair ventured out in the morning, the Kim K lookalike had just a tiny piece of tattered fabric wrapped around her back underneath her br**sts, leaving them entirely exposed behind the purple cushion. This suggests the top she wore the night before had either been ripped or DIY-ed with some scissors. The cushion look is, no doubt, not a wardrobe malfunction, as had it been a mishap, she could have gone back inside the hotel to change.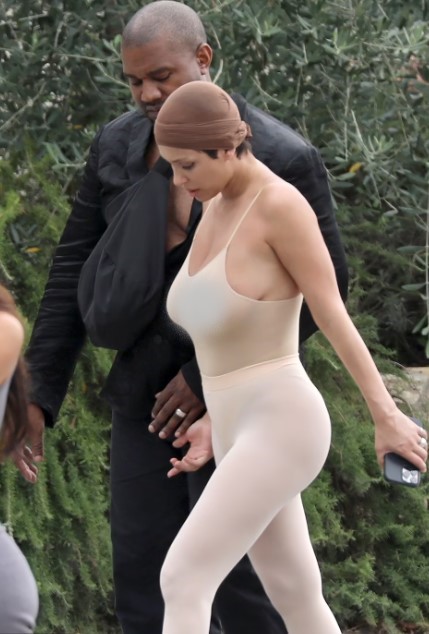 Bianca Censori, 28, walked through Italy in these skin-tight nude pants and purple cushion, which she teamed with clear heels.
As for the Stronger hitmaker, Kanye opted for black sweatpants, a black shirt, and a scarf wrapped around his face. He opted for no shoes again, walking the streets of Italy in socks.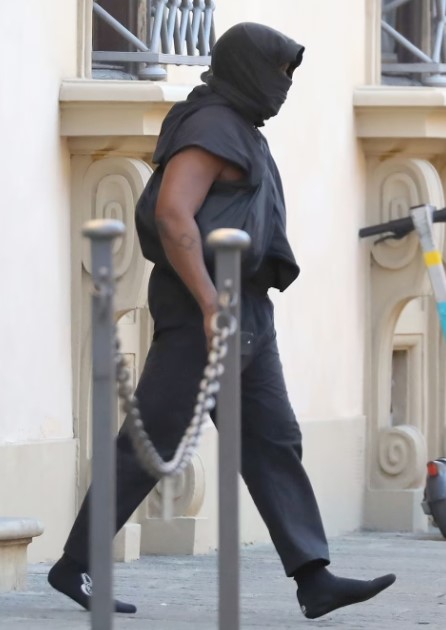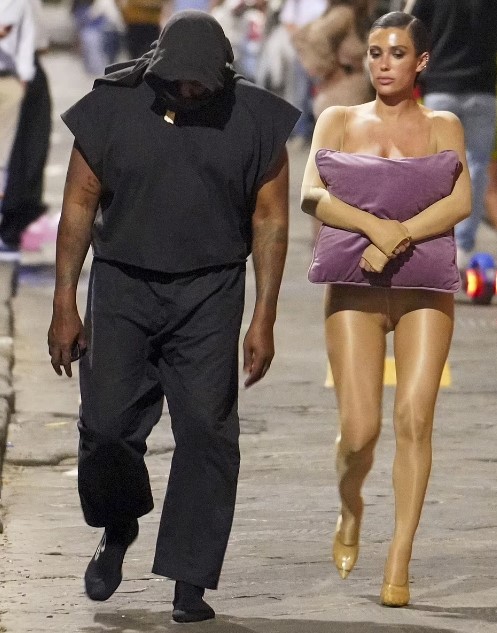 An onlooker reportedly said Bianca kept the purple cushion pressed tightly against her br**sts the entire time the couple dined together.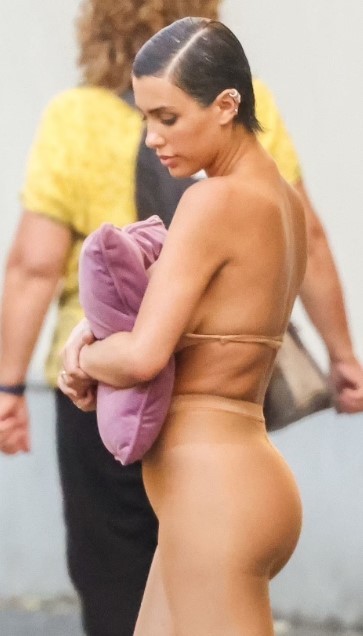 As they left their hotel, the couple had gone shopping at the Italian designer Francesco Risso's boutique, Marni, where Kany exited holding a shopping bag.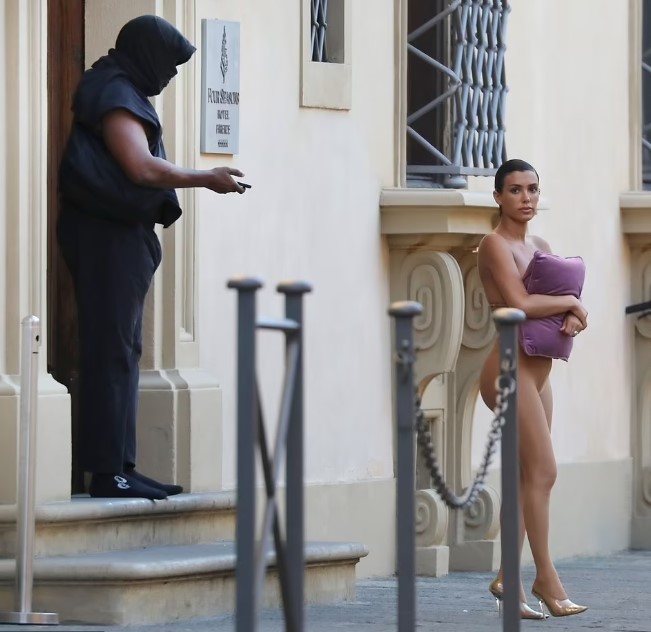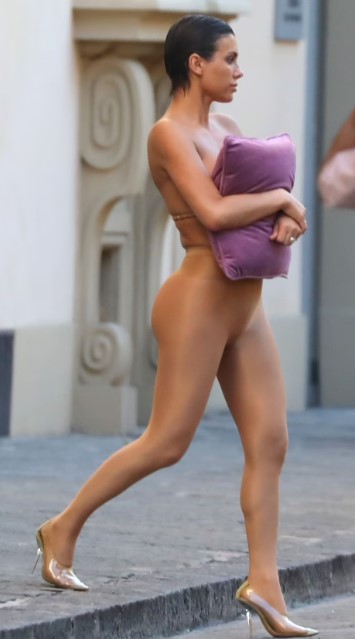 Kanye and Bianca are no strangers to scandal and they've continuously raised eyebrows over their choices in clothing. Since arriving in the conservative country, the Australian model has been wearing barely-there looks, sparking fury among locals. Social media users have equally described Bianca's outfits as disrespectful in a country known for its conservative Catholic heritage. Things reached new heights last week when the couple were caught in a steamy act during a boat ride through Venice.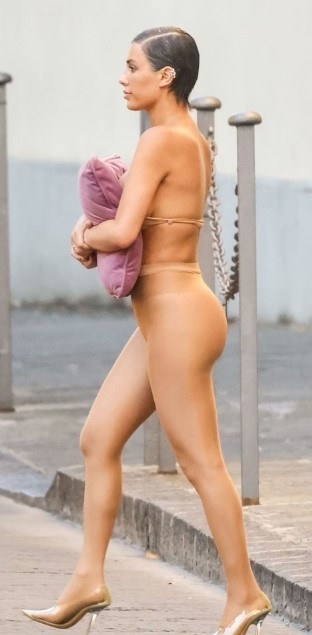 Currently, police are investigating both Kanye and Bianca Censori over the steamy Venice boat act after compromising photos emerged online.
A law enforcement source exclusively told DailyMail that they had identified the driver of the water taxi and would question him in the next few days about what exactly went down. 'There are standards of public decorum that have to be followed by tourists and locals alike and any breaches are severely punished,' the insider said. 'The images of [Kanye] with his trousers down while in a taxi as he and his partner crossed the lagoon were seen all over the globe.'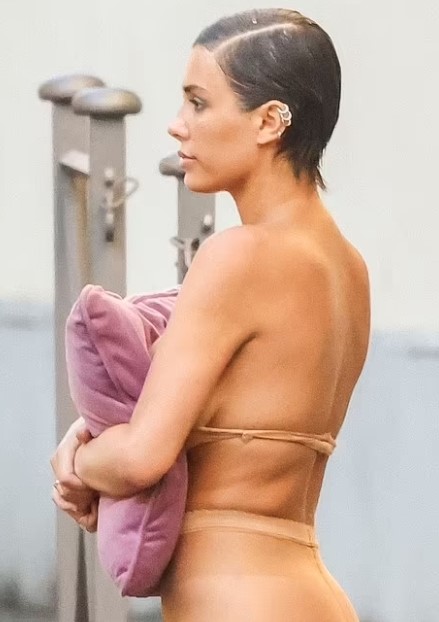 The source added, 'You could see his trousers were half down and we have received complaints from people who witnessed it. Now that we have identified the driver of the boat, we will be asking him what he saw as well. The images show the couple clearly in a state of intimacy and if the local prosecutor decides to press charges, then we will notify the couple, most probably through the relevant embassies. The offense being investigated is acts contrary to public decency, which is punishable by an administrative sanction.'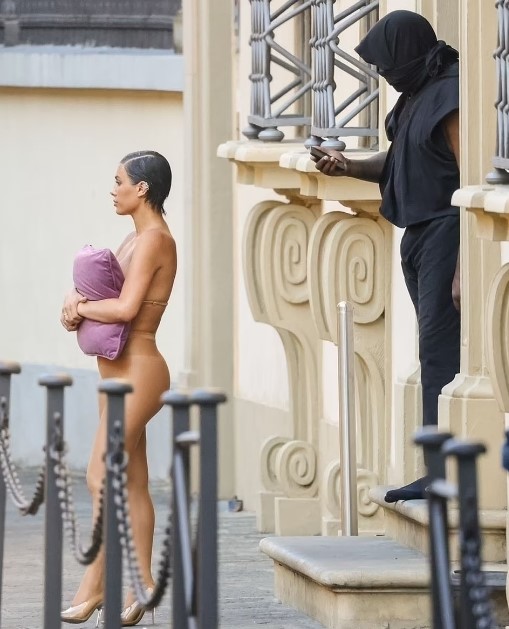 Venezia Turismo Motoscafi, the company that rented the boat to Kanye and Bianca, has now banned the couple for life from using its services following the steamy act.
In a statement, the company condemned the pair's behavior and said they were 'no longer welcome.' It also insisted it was 'completely unaware' of what had occurred on the boat. 'On board, the driver had to keep a lookout for traffic and did not see these obscenities. If this had happened, he would have immediately disembarked and reported the transgressors to those in authority,' it said.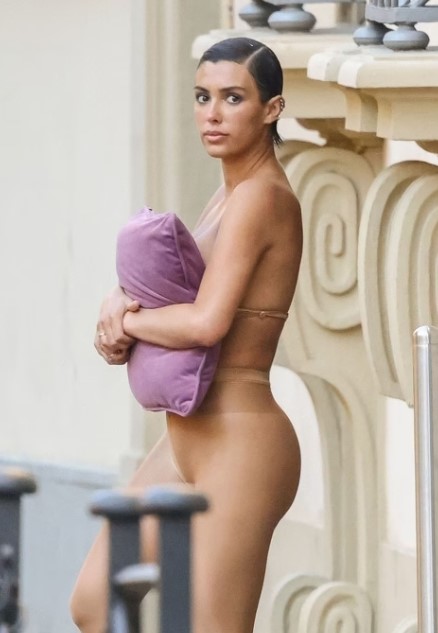 'In addition, there was a third person on board the taxi, who accompanied Mr. and Mrs. West, who obstructed the captain's view to the stern in any case. We completely dissociate ourselves from such acts and behaviors. Mr. West and his wife will certainly no longer be welcome on board our company's boats,' the company, which boasts an array of celebrity clients, including Lady Gaga, Harry Styles, Florence Pugh, Jennifer Lopez, and Ben Affleck, concluded.
In recent months, Kanye's behavior has been said to have left Bianca's friends 'extremely concerned that she's being manipulated or perhaps controlled.
'Bianca is stuck and her friends are trying to save her, but no one can because of the blockades Kayne has put up [around her],' a friend of Bianca's told DailyMail.com. 'Everyone is extremely concerned. This isn't who she is. She is an incredibly outspoken and lively person who is never one to keep her mouth shut. But she has no one right now and it is scary.' Over time, Kanye has become famous for pushing boundaries when it comes to fashion.
Everyone that Kanye has been linked to over the years has undergone a significant style transformation after they started dating the rapper, including Kim Kardashian, Julia Fox, and now Bianca.
'Kanye is trying to make Bianca into a radicalized version of Kim, almost like Kim 2.0,' the source continued. 'The difference is that when Kim was with Kanye, he was respected in the fashion world. He has since lost this respect.' Someone else close to the situation told The Sun following the boat incident that Kanye's ex-wife Kim, who shares four kids with Kanye, is 'desperately embarrassed and worried' about him. They said she believes 'something isn't right' and doesn't know how she will 'explain it all to the kids.'
Read Next

Joseph Adeyinka
Joseph Temitope Victoria, nicknamed 'Temmie,' is a GreenLemon Author and Content Creator. After her studies at Olabisi Onabanjo University, where she got a B.Sc. degree in Geography and Regional Planning, Temitope worked as Journalist with a specialization in Business and Economy. Temitope also holds an M.Sc. degree in Population and Manpower Planning, and interestingly she's a self-taught poem writer. She owns a website 'TemmiesAnthology' and has spent nearly 6years writing on several niches. Whenever there's free time, she spends it editing books – one of her newest is 'In His Green Book' by Terence A. Asitibasi. Temitope can certainly do whatever she sets her mind on.